First, an apology is in place for the below screenshot. It is from an e-mail from a customer that had issues with a simple BAT-file executing and then producing the below result in their production environment (horrible quality). The below error is completely undocumented and never seen before error – initial thought was that it related to an obscure exit code from the BAT-file, however some great findings from a fellow project member Micah did show a different path.
The environment were based on Xenapp 6 with Appsense Application Manager and Environment Manager running in the background – this was essentially giving us at least 4 different technologies hooking into processes and therefore all beeing part of a potential issue with the application.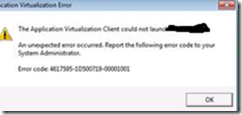 On a few particular servers the application did work though and a key difference were identified (not by me

) – it related to configuration of Appsense Application Manager and effectively excluded the App-V processes from having hooks from it.
HKLM\Software\AppSense Technologies\Application Manager\Engineering\
AppHookEx (REG_SZ) with the value; sfttray.exe;sftdcc.exe
Applying the above to the production environment resolved the problem and gave a few hints to us that this could be a potential problem area for other technologies aswell – here is a thread on a similar topic within the Citrix-forums;
Problems launching streamed .BAT