You can download the Visual C++ 2013 Redist editon and take a peak at how to deploy this prerequisite software.
If running executing the file with a /? you will receive the prompt below;
vcredis_x86.exe /?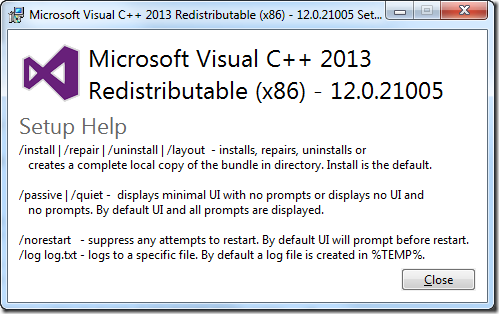 /install / repair and /uninstall will perform its respective action. /layout will extract the vcredist_x86.exe to the folder specified. No idea what the purpose is for that one?
If you install this manually there will be three log-files created in %TEMP%. They have a prefix of; dd_vcredist_x86
Reading the log-files shows us that the MSI-files will be extracted in a GUID-location in this folder;
C:\ProgramData\Package Cache\
ProductCode for Minimum; {13A4EE12-23EA-3371-91EE-EFB36DDFFF3E}
ProductCode for Additional:{F8CFEB22-A2E7-3971-9EDA-4B11EDEFC185}
A sample command-line to install them;
vcredist_x86.exe /install /quiet /norestart /log %TEMP%\vcredist_2013_x86.log
If you want to deploy the MSI-files you can use the same property as documented for VC++ Redist 2012;
ADDEPLOY=1