App-V 5 has gotten rid of the previously used text-based format for log-files and now provides multiple event logs, some hidden under the "Show analytic and debug logs", which can be reviewed individually to identify issues.
In reality, we are still talking about a log to catch an issue and since its an issue – it might be hard to know where to look. When we enable analytic and debug logs there are two steps to get the output. First, we enable the debug logs to see the in the tree-list;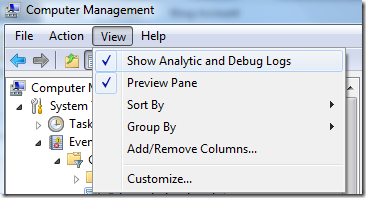 Once they are visible, we need to enable them to get any output. And oh boy, there is a lot of them.
Each log can be enabled, individually. You will always have to enable a log to view it anywhere, and to avoid excessive usage of the logging functionality – recommended approach is to disable the debug-logs once the troubleshooting scenario is completed.
So now there are X amount of individual event logs that we can jump between in order to identify what happens. Lets try to combine them into one common view – something that will make life easier;
We now have the option to select a few criteria to which can combine events from any log to a common view – allowing us to view a common timeline of all events.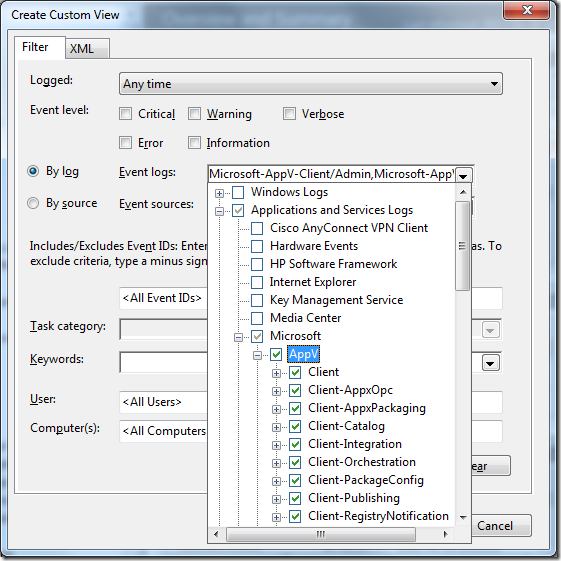 App-V does provide us with a lot of logs (which is great!), so once we click OK – we get this warning;
Finally – we can name our view;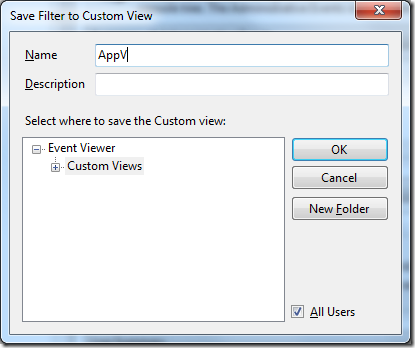 Now we have a custom view that have joined all the App-V events into a single view! Great for tracking in a difficult situation!