So – lets first clear out the base system that we will install the App-V Client on. It already has the App-V 4.6 SP2 beta on it – so we will simply try if the two can co-exist.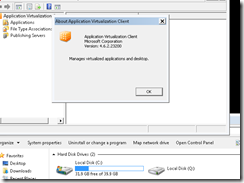 Starting the installer doesn't seem to cause any problems (no pre-condition checks ?). The user interface seem to be very similar to the sequencer when it comes to install, and that is a really good thing. The previous experience of installing an App-V client was horrible and allowed for quite a few error prone mistakes. If you were setting up the App-V client previously – it was more realistic that there sub-optimal (that is an Microsoft term) values set for your deployment later on. So, lets investigate the client!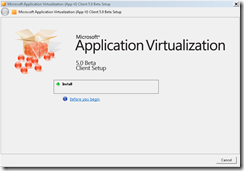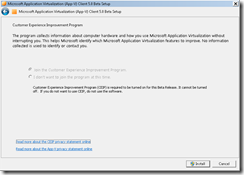 Wow – we are all finished installing the new App-V client and not a single option that related to the configuration of the client. Not even what directory it was supposed to be in!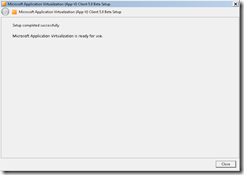 An option on the start-menu is now presented. Considering that we are talking about enterprise customers for this product – removing this should certainly be an option. Lets hope that this start-menu shortcut will go away in the final product and we can let the user be never-knowing of how we do deploy software. They hired us to worry about that right?
The actual client interface looks a lot different. Wonder where they got their inspiration from?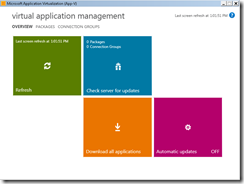 After deploying the Winrar package that was previously made – to see any statistics update – the Refresh button had to be clicked. An annoyance, but a small one.
Using the MSI-file allowed for a silent install and pre-cached the entire application. Just the way we like it!
What a second – we just deployed a virtual application – and when I choose Open With. This is how Winrar is presented! WOW! We are off to a good start!
Looking at the shortcut on the start-menu – this is what executable is referenced;
%ALLUSERSPROFILE%\Microsoft\AppV\Client\Integration\15FF5EF2-8A60-409E-9530-5535E541C028\Root\WinRAR.exe
It seems that now we are simply virtualizing an application and NOT isolating it. This should allow for a whole new feature set of possibilities when it comes for the operating system to interact with virtual applications.
Also – the previous so annoying possibility of a naming conflict due toe Application Name + Application Version seems to be gone. A GUID-folder is now used to separate the package – truly effortless side-by-side deployment – HERE WE COME!
So far we have just brushed on the future possibilities of the product – lets see if we can't dig deeper into it!