Lets get started with the newly released App-V 5 beta sequencer and see what the administrative experience is of creating a package.
The installation of the sequencer is a pretty basic finish-installation (next, next, next – finish).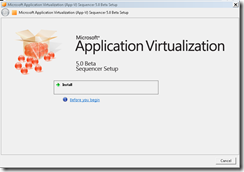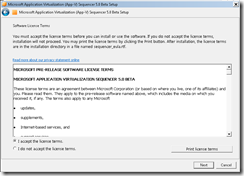 It seems that even in the future there will be possibility to leverage the Windows Update infrastructure – which should ease the process of rolling out updates. Considering that current hotfixes are released on a non-regular bases and aren't automatically provided – there certainly is room for improvement before customer widely start adopting this feature. (and ehm, the fact that things sometimes broke when new versions of the client were released).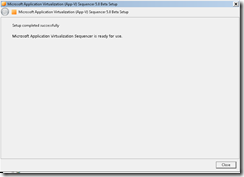 That's it – the App-V 5 sequencer is now installed and ready to be used. Simple enough?
When first starting the sequencer – you will see a very familiar interface. The investments made in App-V 4.6 SP1 will glow through the entire UI – even though there are some major updates under the hood.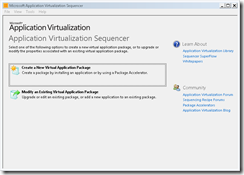 Since this is beta code – some options are greyed out or simply does nothing when beeing clicked. As we can see – Package Accelerators aren't an option in the beta-release.
Reports will still be generated and give people a heads-up when performing the sequencing. This is one of the features producing real value for all customers and even the most experienced packager could benefit from this. Glad to see the concept is still around.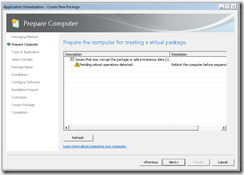 Previously – there was no technical difference between packages, however the sequencer user interface provided the possibility to create three different type of packages (you can see them below). I haven't yet plowed through the entire thing, but there is a certain thought that there will not be three different type of packages. So – why present these options? Any customer that have looked at these have sometimes picked the wrong one and had to revert the entire snapshot and started over. This step – is unfortunately a bad one that still persists.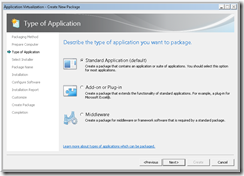 Here comes a major difference – compared to the previously looked at wizard. There isn't a Q: drive available anymore – but you still have to pick a Primary Virtual Application Directory. Now, it isn't optional. According to the below descriptive text – you are recommended to select the installation directory of your application. Well – I don't know it? I had to drop the entire thing, install Winrar (which is the current choice of application to sequence), look-up the directory, revert the sequencer and then start over. I am suspecting that selecting a generic place (like, say… program files?) will be the lazy-mans option. Perhaps it will not make a difference? Perhaps the discussion in the future will not be about MNT / VFS, but wether or not selecting the ACTUAL installation directory or just a generic-place.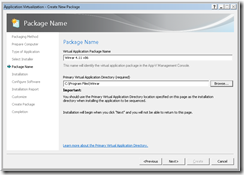 Look – no Q: drive!
Here comes some major differences – lets look at them more closely…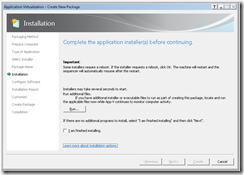 Reboots are processed quite differently and now actually does require a reboot. Good, bad? I can't say – but it will defiantly be more like other packaging software around.
The actual monitoring mode seems to be around – basically the computer is your play ground and any change will be captured. In detail – no investigation has been done if there is a major difference in what will be captured or not. Lets assume that its new process and any changes invoked by those new processes.

The second step – allows you to run the software you have installed. This will allow for an easy identification of what software were captured and it seems to perform a really good job of filtering out any necessary shortcuts (help menus, uninstallers etc). When you run the software in this step – it is still not and will never be a test to verify if your package will be OK during deployment. Its simply a chance to preconfigure the software.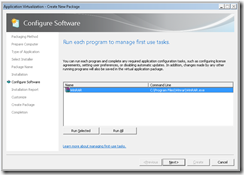 A final report is produced of what was noticed during the actual capture process that could cause an issue with our package.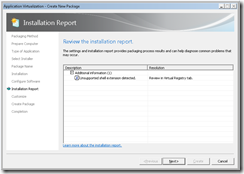 For the sake of our testing – the customize option will be chosen. Mind though – for the very first time I am stating this;
I do believe you will be done at this step most of the time  and can safely choose Stop Now. There are quite a few reasons for this;
1. We will not have to worry about naming conflicts (more of this will be revealed when working with the client)
2. Per default – the package will run on any operating system.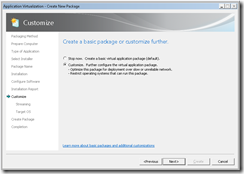 The optimization for streaming (old feature block 1 – you know) – where you will determine the required bits and pieces of what the application _first_ needs to get started successfully if being streamed to a client. I can not repeat this often enough;
This is not a test of how the application will work on the client.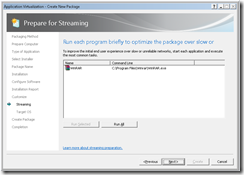 This is just a warning that the package will not be optimized for streaming. If you don't stream – you don't care.

As explained above – the default option is that the package will be allowed on all operating systems. This list also gives an indication of operating system-support. Windows XP is simply to old to be supported, I guess?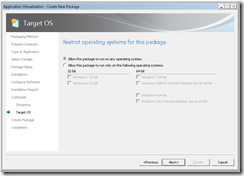 For the sake of blogging – the choice to continue to modify the package will be made as opposed to just wrapping it up.
A final summary of the reports generated previously.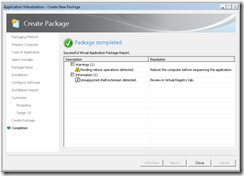 The editing mode looks very similar to how it previously looked. However, a few key differences are there. No OSD-tab. So no OSD-files, right? We now have Package Files as opposed to Virtual File System. VFS could have been used still – right?
If looking at the options – we can see that several things relating to the configuration of the OSD-file are now missing. OSD-files really seem to be obsolete?
Parse items and exclusions items use a different way to make a package system independt – but the concept is still there.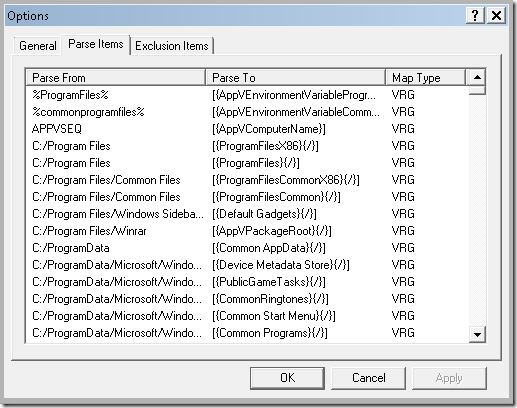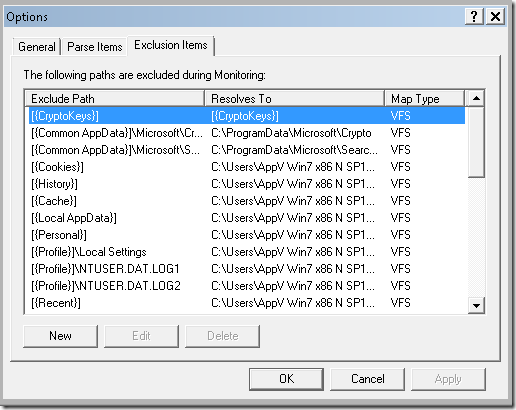 As you can see – Package Files is the same as old Virtual File System. The content looks very similar and the variables now are resolved to the new style format to make them independent of the computer system.
Where the old OSD-tab used to be – there is now a summary of the applications and their configuration for deployment.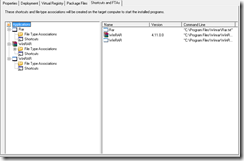 The actual package looks quite different. The .appv-file seems to contain any content. The rest if simply configuration for deployment or references of the reports generated.

However, the XML-style of configuration seems to stick around – but greatly enhanced. Seems that we can still do amazing things and we will have to options;
Deployment-configuration that will happen when the package is deployed to a machine
User configuration that will happen when an application is being started.
We will explore more of this later.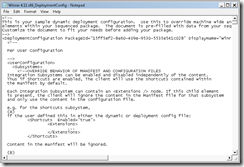 The .appv file is a zip-file. So if we rename it – we can just crack it open!