When you create a new package and deploy it, there usually are some things that might resurface after the initial testing of a package. Such details might be the placement and name of a shortcut.
If you open an existing package in the sequencer you have three options;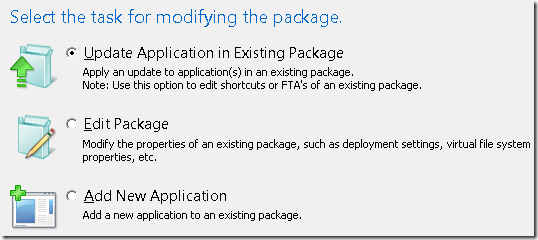 Select Update Application in Existing Package will present you with a stripped version of the sequencing wizard. Aiming for the Edit Package will head you straight to tab-based part of the wizard where we can review and edit the package on a more detailed level;
Ponder this image above for a few seconds and lets continue with the Add New Application option.
Selecting the Add New Application is the route of upgrading packages that I personally recommend. The reason are simple;
There are no options removed while performing the updated sequence.
The Edit Package route (obviously) takes us to the tab-based edit mode and doesn't allow us to capture any additional installers.
What might havechanged in the App-V 5 sequencer as the ability to edit and alter shortcuts actually shows up in the Edit-mode after you have finished either Update Application in Existing Package or Add New Application and choose Customize. The below tabs can be seen. For some reason – Shortcuts and FTAs isn't visible when selecting Edit, but for the rest of the possible routes the full view of tabs is visible.

There seems to be "light" Edit and "advanced" Edit. Advanced Edit seems to only be available by strolling along the two wizard-based routes, where as light Edit can be directly accessed when opening a package. Light Edit does not allow you to alter shortcuts and file type associations.